Medium 22" Elite Waterfall Box
SKU:
PB1083
• Waterfall Width: 22" Spillway
• Dimensions: 31" x 30.5" x 23"
• Max Rec. Pump Flow: 6000 gph
• Max Pond Volume: 3500 gal.
• Inlet Size: Two - 2" Spinwelds
•
Lifetime Warranty
Product Details
PB1083 - Blue Thumb
Medium 22" Elite Waterfall
• Waterfall Width: 22" Spillway
• Dimensions: 31" x 30.5" x 23"
• Max Rec. Pump Flow: 6000 gph
• Max Pond Volume: 3500 gal.
• Inlet Size: Two - 2" Spinwelds
• Lifetime Manufacturers Warranty

The octagonal design provides maximum strength, and a much easier shape to camouflage than circular or rectangle designs. With 2 bulkhead openings, pipes can be installed from either side. The second opening can be used as a back flush to perform water changes or connect multiple pumps or plumbing lines. The two included Matala mats have two times the biological benefit and will last up to four times longer than traditional mats. These boxes come with self-tapping stainless steel screws for easy installation and corrosion resistance. Lastly, the waterfall snout is reversible. Install in the usual way for basic installation or reverse the snout for a more advanced waterfall appearance.
Elite Series Waterfall Filters are absolutely the strongest, most durable waterfalls on the market! A contractor favorite, Elite Series Waterfalls come standard with Matala Biological Filtration Mats and include a Landscape Lid for concealing the unit within the landscape.
Filter/Waterfall Unit
Detachable Weir
Plumbing Fittings
Stainless Screws
Screw Caps
Liner Clips
Teflon Tape
Installation Instructions
Made in the USA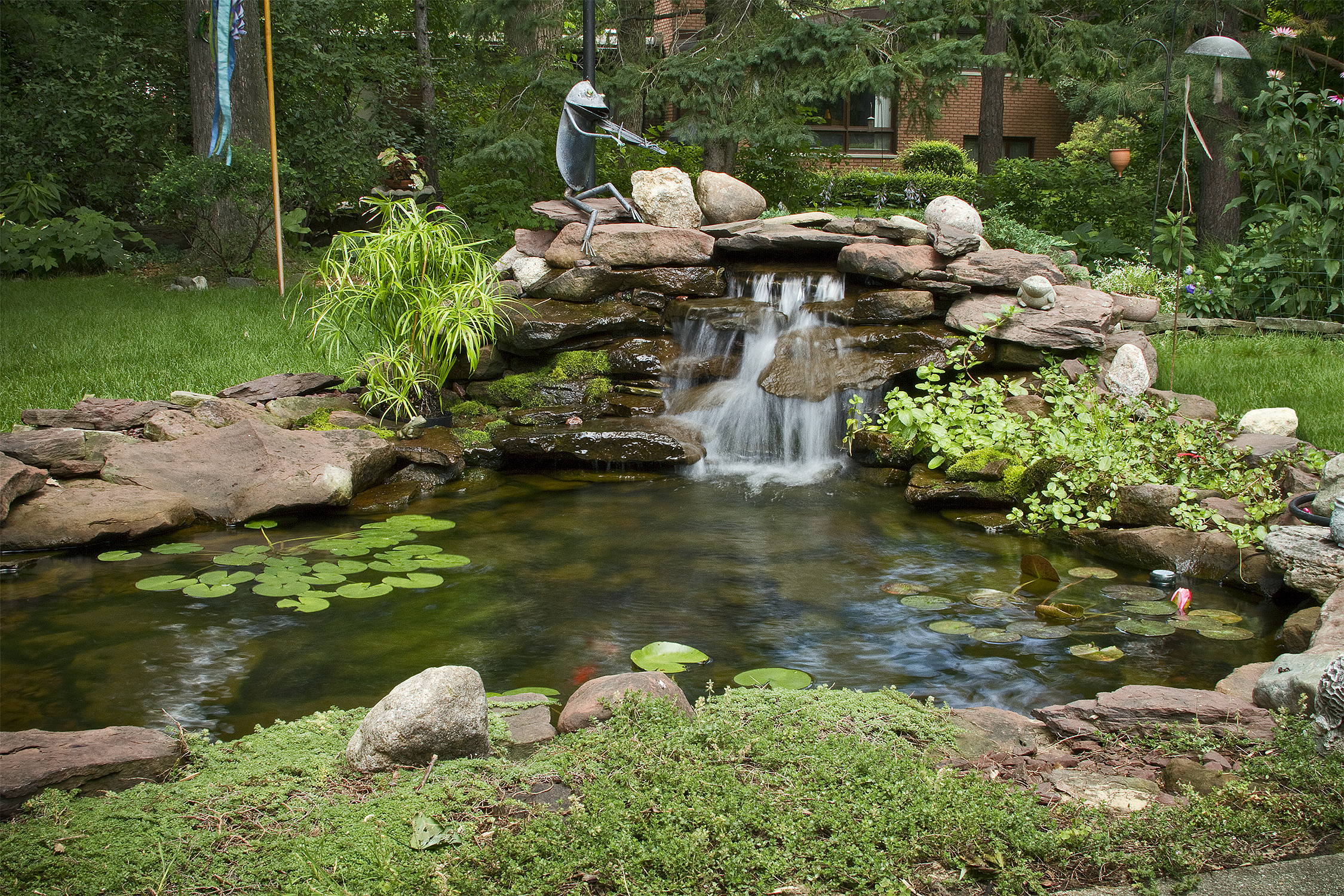 | | | | | | | | |
| --- | --- | --- | --- | --- | --- | --- | --- |
| | DIY Pond Waterfall 1200 | DIY Pond Waterfall 1500 | DIY Pond Waterfall 2000 | Small Elite Waterfall | Medium Elite Waterfall | Large Elite Waterfall | Extra Large Elite Waterfall |
| | | | | | | | |
| | | | | | | | |
| | | | | | | | |
| | | | | | | | |

About our Complete Pond Eco System
Biological Waterfall Boxes - Filter harmful waste and toxins from the water, keeping your pond clean and clear. Provides excellent surface area for beneficial bacterial growth while making a simple and artistic way of creating a waterfall. Easy to camouflage-especially when using our Landscape Lid that fits on our Elite Series. (Landscape lids are not available for DIY Waterfall Boxes.)
Black PVC Flex Hose - Carries water from skimmer box up to the biological waterfall box. Flex PVC is much easier to install than rigid PVC.
Rocks and Gravel - Are not included, but will be necessary for the complete installation of your pond. They provide additional surface area for beneficial bacteria to colonize, protects your liner from harmful UV rays and damage from animals. Plus they creates a beautiful, natural look.
Protective Underliner - A non-woven, protective underliner fabric forms a soft padding for the liner. Installs much quicker than newspaper and covers the vertical walls unlike sand. Unlike carpeting, it allows gases to escape out of the sides from the earth's soil.
Fish-Friendly Rubber Liner - Super-strong 45-mil EPDM liner is the best choice when building a pond. Very flexible - conforms to pond's curves and slopes.
High-Efficiency Pump - Pump sits in back pump chamber protected from clogging by nets and filter mats. Blue Thumb pumps are recommended as they will use far less electricity and are meant to operate continuously.
Mechanical Skimmer Box - Simplifies routine maintenance by removing floating debris before it sinks to the bottom of the pond. Protects the pump and hides unsightly plumbing.