Blue Thumb Custom Rotomolding
Have a plastic product idea?
Do you need help with manufacturing, finishing, or warehousing?
Let Blue Thumb's Custom Rotomolding Department help!
Our mission is to provide superior products at a reasonable profit by designing solutions that meet customer expectations while establishing a reputation for reliability and durability. We treat our clients with respect and strive to be a resource that supports individual and company growth.
We make a wide range of products in the agricultural, recreational, environmental, industrial, and medical, as well as our beloved garden/water feature industries.
In addition to manufacturing rotomolded plastic products, we offer additional services such as CAD design, finishing and assembly, packaging, warehousing, quality assurance, and drop shipping.
Rotomolding is a low-pressure cast process that does not require in-mold cooling or part ejection. Our molds are usually manufactured from cast aluminum making the tooling process quick and affordable. A typical lead time for a new tooling is only 4-10 weeks depending on size and complexity and all our molds are made locally. Aluminum cast tooling also allows us to manufacture multiple duplicate molds to increase production capacity. In addition, tooling costs can be lower than alternate manufacturing methods like blow molding and injection molding.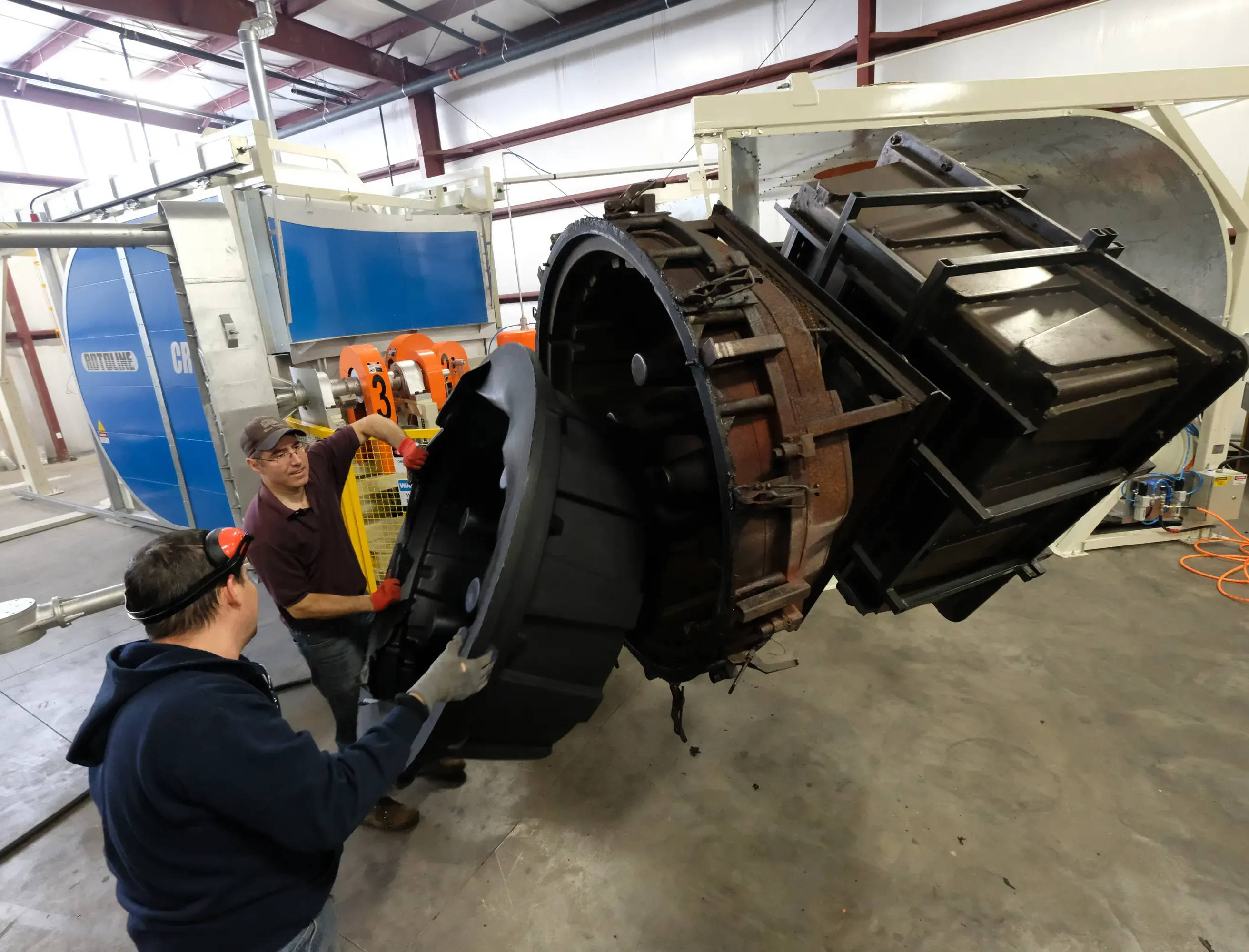 About Blue Thumb Rotomolding Division
BlueThumb custom rotomolding is a family-owned business that has been producing high-quality custom-engineered water feature products for over 20 years.

In 2018, Blue Thumb proudly announced they were the first manufacturer in the water feature industry to invest in its own rotational molding machine. The investment allowed us to control the quality and availability of our pond filtration and fountain reservoir/basin products as well as helped us keep better control of rising costs.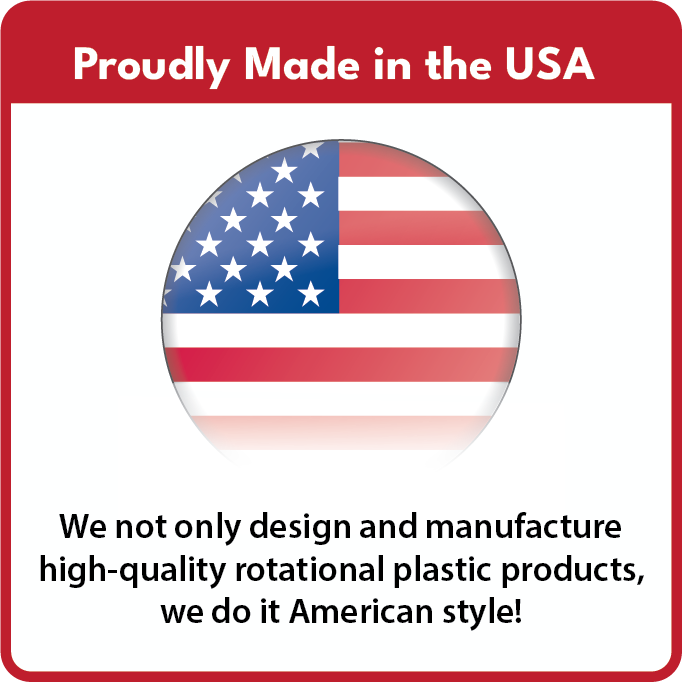 Roto molding has made it easier to create our Blue Thumb basins, waterfall boxes, skimmers, and more. All of which have been environmentally tested for strength and durability.

We want to help make it easier for your business to provide quality products at a reasonable cost. We welcome the opportunity to demonstrate how rotational molding can enhance your final product, improve delivery times and contribute to your bottom line. Please contact us for prompt, friendly, and professional assistance.
The Rotoline 2.6 is a mid-size Rotational Molding machine that rotates on an adjustable Major and Minor Axis with 3 independent carousel arms. State-of-the-art technology is especially suitable for the production of plastic products with either a simple or complex design and small to mid-size products serving many industries.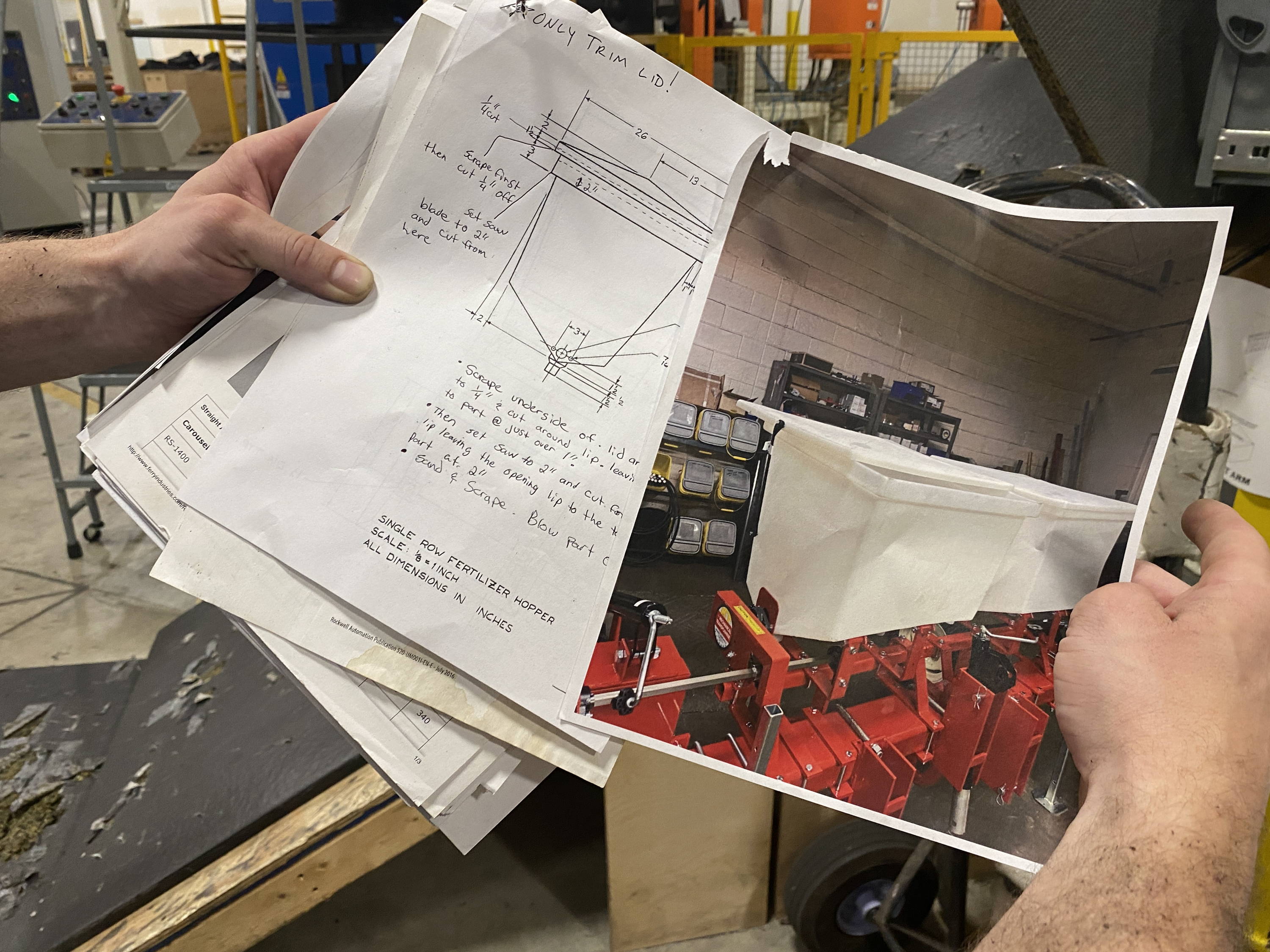 Whether our clients design innovative products or we create the design, we manufacture every product using only the highest quality plastics.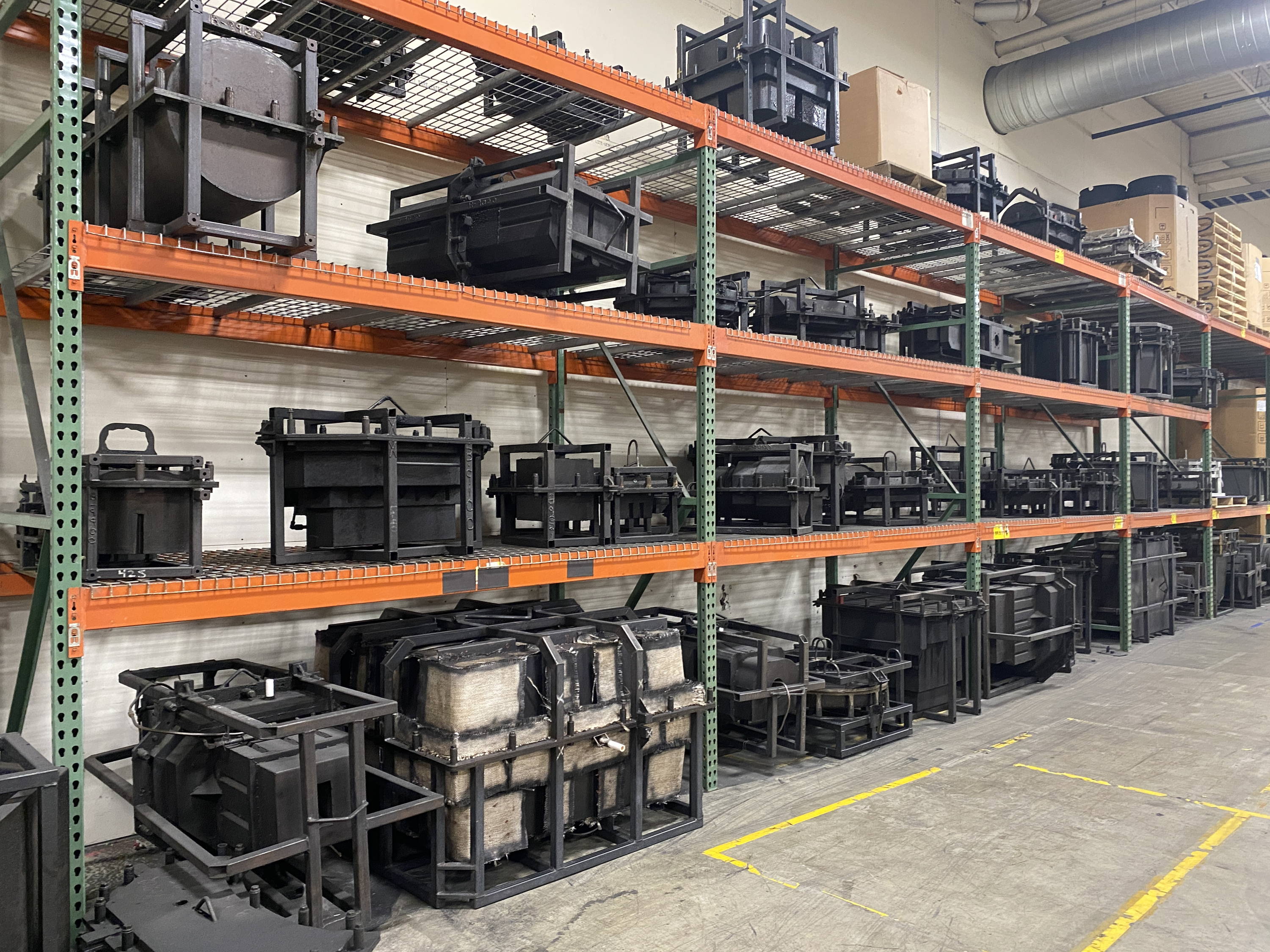 Blue Thumb custom rotomolding provides in-house preventative maintenance and tool repair to ensure your molds are always production ready and running efficiently.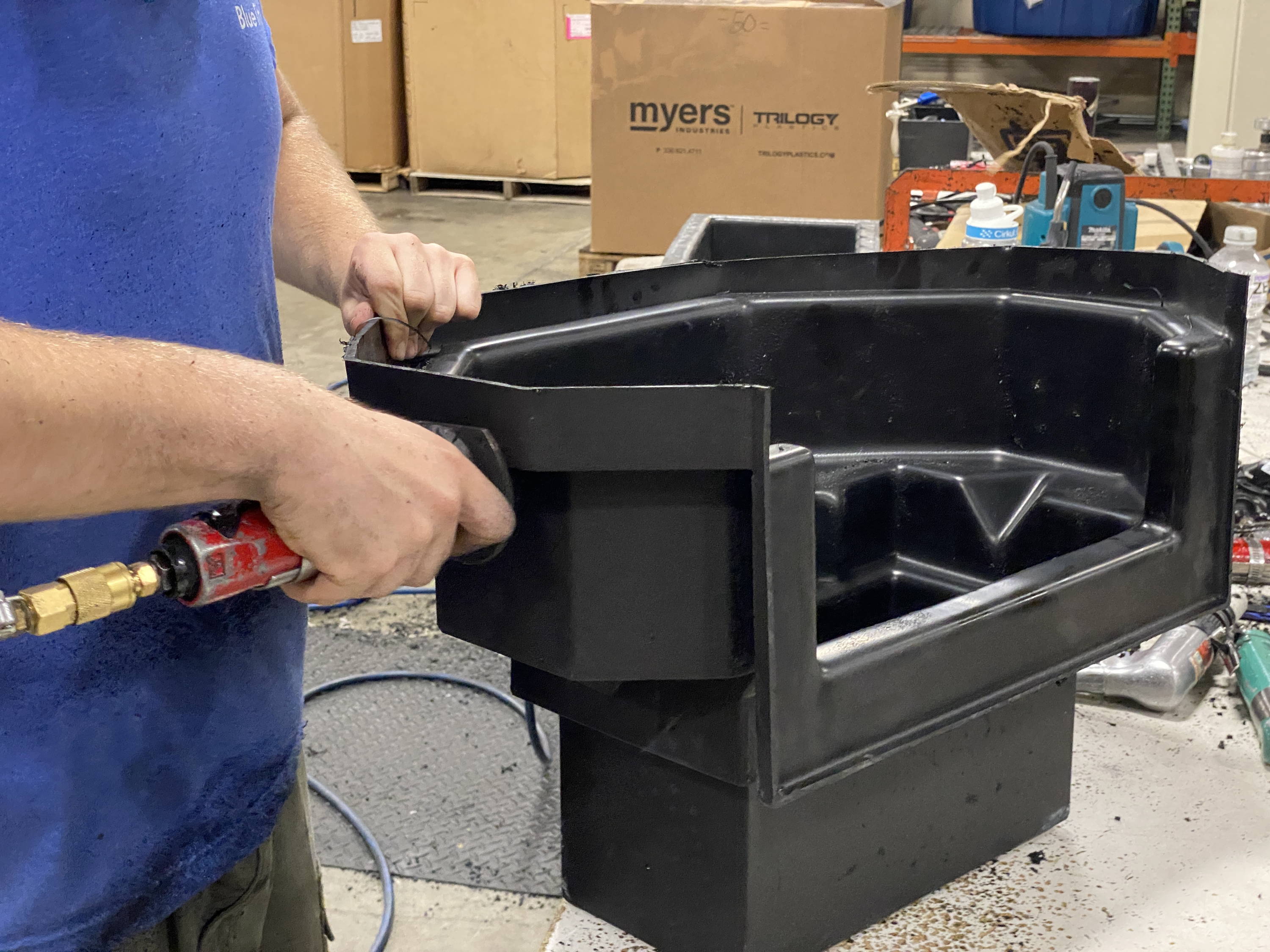 Blue Thumb custom rotomolding uses the latest technologies to ensure the accuracy, consistency, and finish of your products.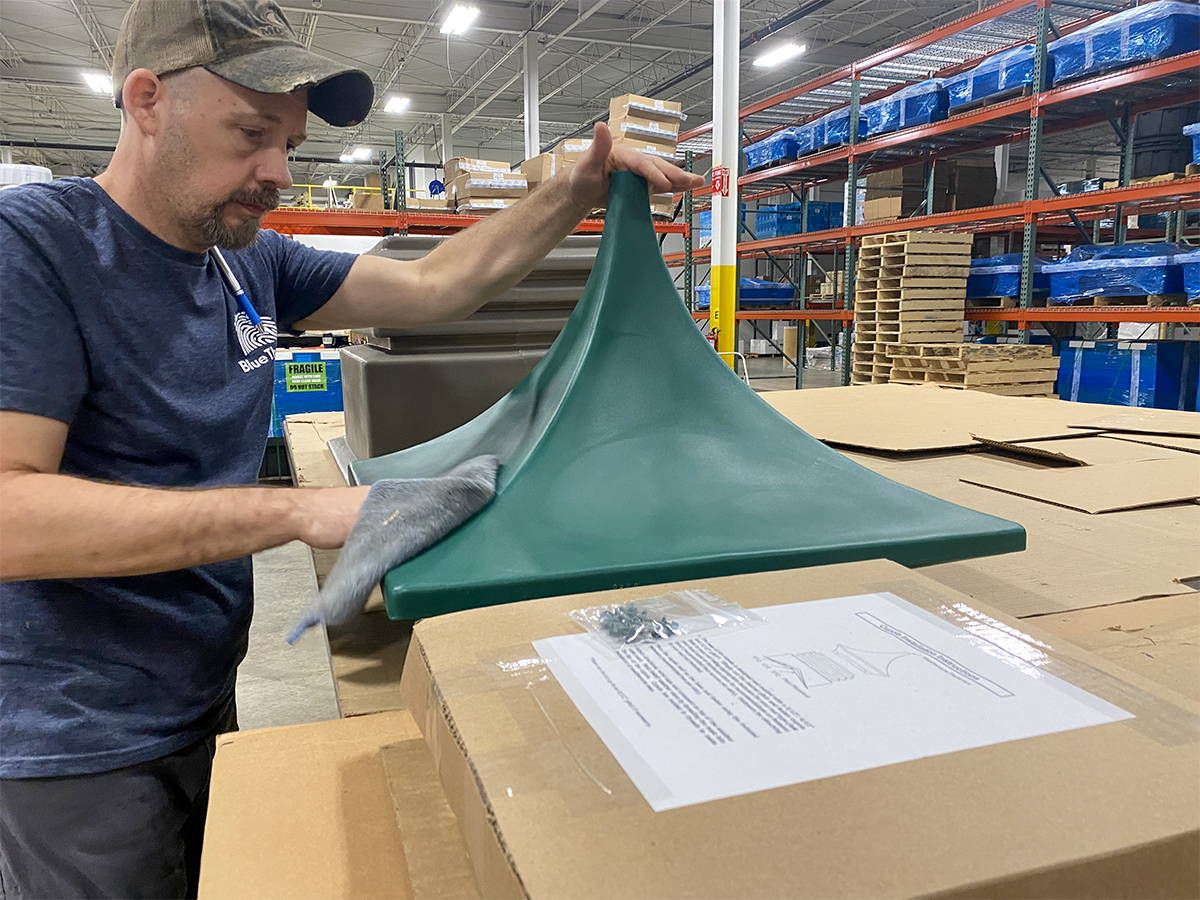 Some manufacturers stop when the parts are done, we don't. Blue Thumb custom rotomolding offers complete assembly and packaging customized to your needs.
Warehousing / Distribution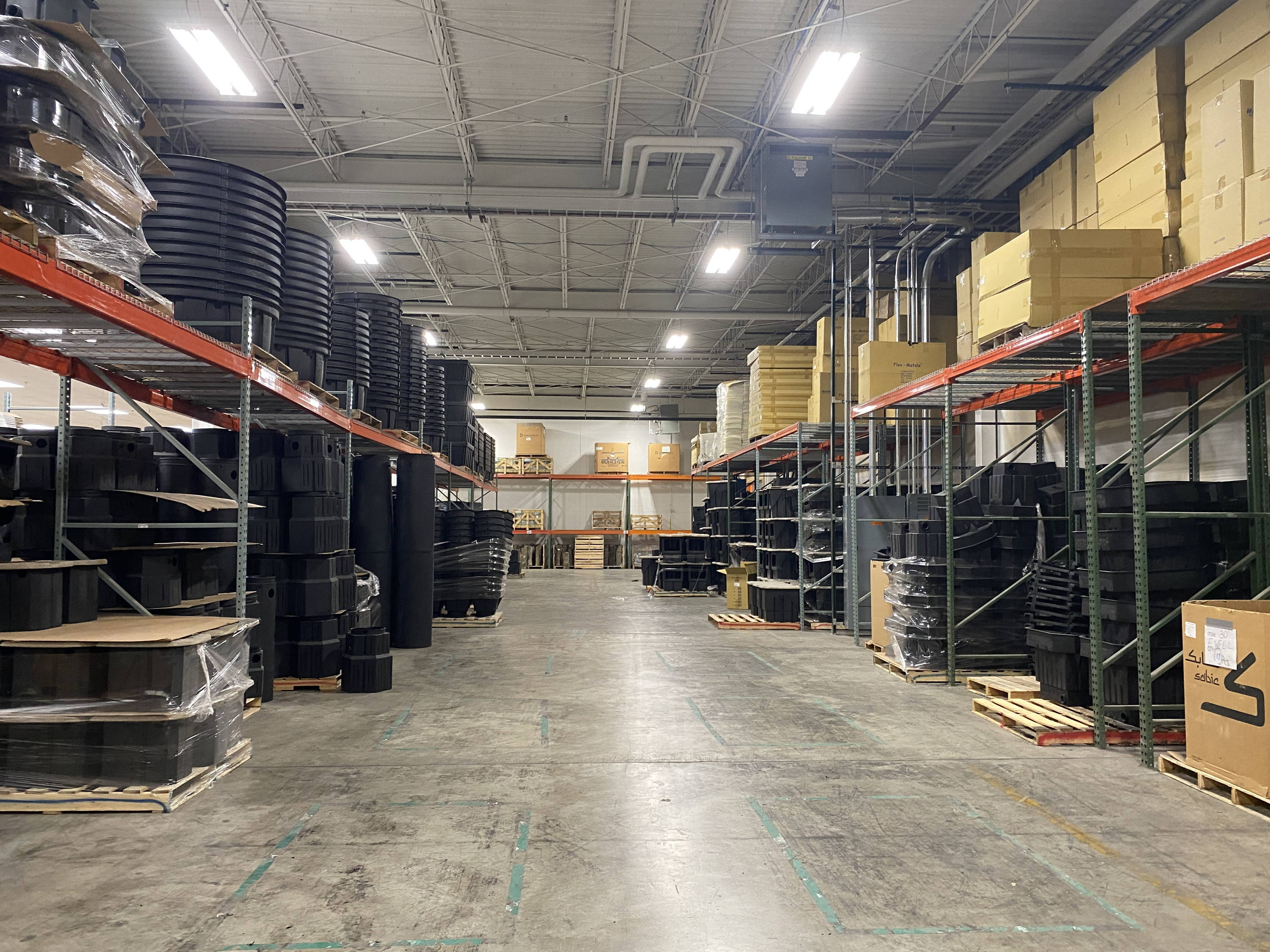 With nearly 200,000 sq. ft. of manufacturing & warehousing space, Blue Thumb custom rotomolding can fulfill all of your product storage and distribution needs.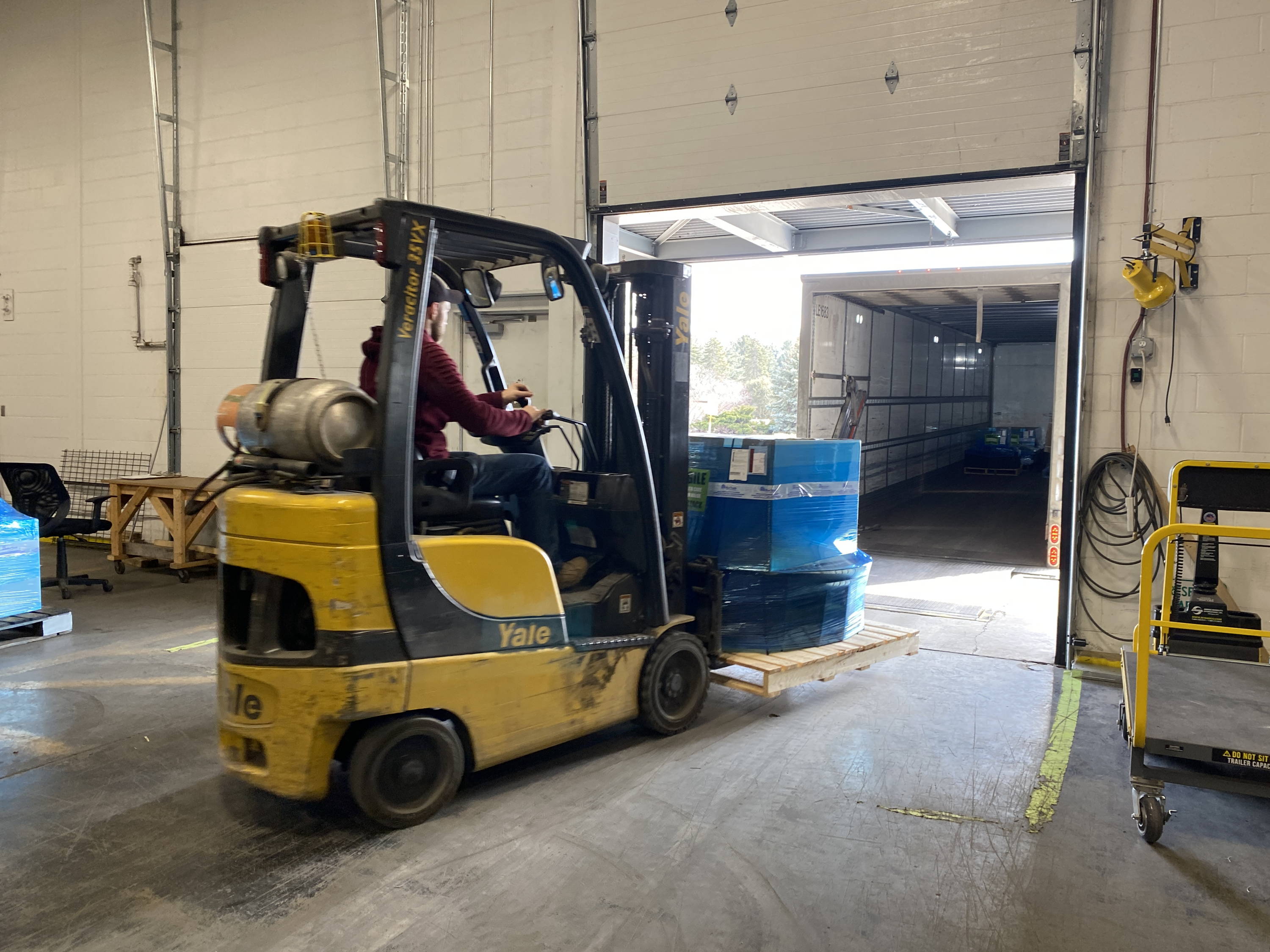 We have the ability to ship your products directly to the customer – from single-unit shipments to large retail shipments.
Rotational molding, also known as rotomolding, is a plastic molding process that uses rotation and gravity, rather than pressure, to mold parts and components. The molds are heated while being rotated on two perpendicular axes. This disperses the material and fills the mold. Interested?
Step 1: Project evaluation consultation, at no charge
Step 2: Examine molds and assess possible tooling needs
Step 3: Run prototypes to establish cost and quality expectations
Step 4: Production scheduled for prompt completion
Step 5: Shipping from our facility to yours, or drop shipped
Our quality assurance team is second to none, able to clearly identify and document customer requirements and continuous improvement opportunities.
The Blue Thumb Roto Advantage
Rotationally molded products can be as small as a ping pong ball and as large as a 20,000-gallon tank. These parts are also more uniform and have superior strength and durability when compared to other methods like blow molding, injection molding, and thermoforming.
Rotational molding allows much more flexibility in product design compared to blow molding. Complex shapes and moving sections are easier to manufacture and rotomolding offers a distinct advantage with uniform wall thickness and stress-free parts
Blue Thumb custom rotomolding is experienced with in-mold decorating techniques that allow detailed graphics to be permanently molded into your plastic product. Items like multi-colored logos, serial numbers, and even bar codes are seamlessly molded into the part and are significantly better quality than traditional labels.
Blue Thumb custom rotomolding offers color blending to match nearly any Pantone imaginable without high volume requirements. Granite, sandstone, and other special colors are also available.
Metal inserts or threaded inserts are easily added in the rotational molding process and offer a low-cost, durable, and stable way to alternative assembly techniques.
From high gloss finishes to detailed textures and wood grains, rotational molding is a casting process that will duplicate any texture in the mold.
Contact us at sales@bluethumbponds.com or call 888-619-3474 ext. 7000