Posted by Blue Thumb on May 19th 2023
Are you tired of your outdoor space feeling drab and uninspired? Step into a realm where artistry meets nature, where the soothing melody of flowing water intertwines with the captivating allure of metal.
Metal fountains possess a unique magic that has the power to transform your outdoor space into a breathtaking sanctuary. Whether you desire the rustic charm of a Corten steel fountain or the elegance of brass, these metal fountains will ignite your senses and create an enchanting ambiance in your garden.
Prepare to embark on a journey of discovery as we delve into the transformative power and boundless beauty of metal fountains.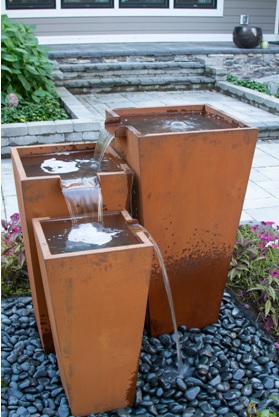 Unleashing the Beauty of Corten Steel Fountains
Imagine a picturesque garden scene, where water gracefully dances over the surface of a rusted Corten steel fountain, adding a touch of rugged elegance to the landscape.
The Triple Corten Steel Rusted Fountain Urn Kit is a perfect example of how metal fountains can transform an outdoor space. This kit includes everything you need for easy installation, making it a great option for those who want to add a unique touch to their garden without having to hire a professional. The molded basin, pump, and plumbing are included, so you don't need to worry about buying additional materials.
Once installed, the Triple Corten Steel Rusted Fountain Urn Kit will instantly elevate your garden with the charm of rusty Corten steel. The aged metal look of the corten steel fountains gives a rustic and industrial feel that will complement any landscape design.
The triple fountain design provides a modern and unique twist to the traditional rustic look of the material, making it fitting for either country or city settings.
One practical way to use the Triple Corten Steel Rusted Fountain Urn Kit is to pair it with native plants and flowers.
For example, placing the fountain in the midst of a bed of tall native grasses will create an eye-catching contrast between the rusty steel and the green foliage. You can also place the fountain near a seating area to create a peaceful ambiance, or as a focal point in the garden.
Transforming Your Outdoor Space with Metal Fountains
Metal fountains have a transformative power that can turn a mundane backyard into a captivating oasis.
One exceptional example of metal fountain artistry is Blue Thumb's Triple Spillway Bowl Kit. This kit offers a perfect balance of classic elegance and timeless beauty that effortlessly enhances any landscape.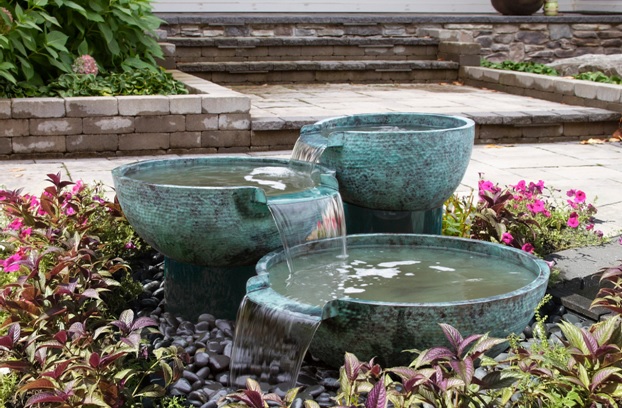 The focal point of this kit is the set of three brass bowls, adorned with a stunning aqua brass patina. The vibrant patina adds a touch of color and allure to the bowls, making them true statement pieces in your outdoor space.
Setting up the Triple Spillway Bowl Kit is a seamless process, thanks to Blue Thumb's comprehensive kit. With all the necessary components provided, including the molded basin, pump, and plumbing, you can embark on this creative project with confidence.
Simply follow the step-by-step instructions, and before you know it, your garden will be adorned with a gallery-worthy centerpiece that mesmerizes both guests and passersby.
Now, picture this picturesque masterpiece nestled amidst a bed of vibrant marigolds. The radiant colors of the flowers harmoniously complement the aqua brass patina of the bowls, creating a captivating visual symphony.
The combination of the Triple Spillway Bowl Kit and the vibrant marigolds transforms your yard into a scene worthy of a framed work of art.
The Endless Possibilities of Metal Fountain Designs
With an array of metal fountain designs to choose from, you have the freedom to express your unique style and create a truly personalized outdoor space.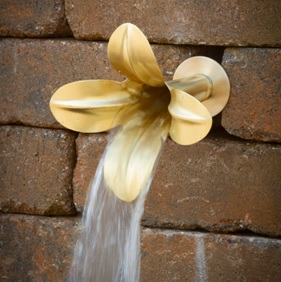 For those seeking a touch of elegance and charm, consider the Brass Flower Spout with four petals, where water gracefully spills down, adding a whimsical touch to your garden wall. Whether the water spills down one petal or gracefully cascades between them, this charming brass water spout becomes a delightful focal point in any garden wall.
On the other hand, Blue Thumb's Sugar Kettle Fountain Kit brings a touch of history and heritage to your outdoor space, allowing you to embrace that history and enhance the beauty of your yard.
These cast iron vessels, once utilized on Southern plantations, have been carefully reproduced to serve as unique and striking additions to your yard. From planters to water fountains, these sugar kettles breathe new life into the past, giving your space a sense of character and nostalgia.
The Artistry of Copper Fountain Trees
For the ultimate fusion of art, metal, and water, turn your attention to the majestic Copper Fountain Trees.
Handcrafted by talented designers in the tranquil woodlands of England, these sculpted fountains are a true testament to craftsmanship. Each element, including the intricately cut leaves, is meticulously created, ensuring that no two pieces are identical.
The Extra Tall Maple, with its impressive height and stunning copper leaves, and standing at 70" high, becomes a captivating centerpiece that adds a touch of natural splendor and grace to your outdoor oasis.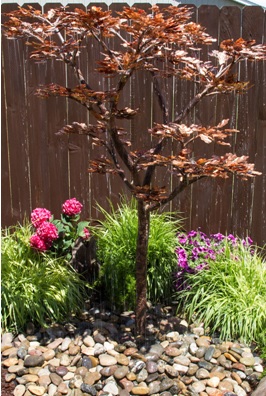 With the Achelous AquaBox Basin, a powerful Mag-Drive Pump, and all necessary fittings, this complete kit offers a seamless installation process, allowing you to witness the extraordinary beauty of water cascading through copper leaves.
Create Your Metal Magic with Blue Thumb's Metal Fountains
Elevate your outdoor space to new heights of beauty and serenity with the captivating allure of metal fountains.
Whether you're drawn to the rustic charm of Corten steel, the timeless elegance of brass, or the artistry of copper fountain trees, Blue Thumb offers a wide range of metal fountains that cater to your unique preferences and style.
With our expert craftsmanship and attention to detail, Blue Thumb ensures that each fountain becomes a masterpiece that enhances the beauty of your surroundings.
Experience the enchantment of metal fountains and unlock the potential of your outdoor space with Blue Thumb. Visit our website or contact our knowledgeable team to explore our extensive collection and turn your dreams into reality.
Embrace the transformative power of metal and let your outdoor space come alive with the mesmerizing beauty of metal fountains from Blue Thumb.