Formal Falls® - Large Kit
SKU:
PB2651
• NOT FOR USE IN SALTWATER
• Stainless Steel Construction
• Self Draining - No winterization
• Made in the U.S.A.

Product Details
PB2651 - Blue Thumb
Large Formal Falls™ Kit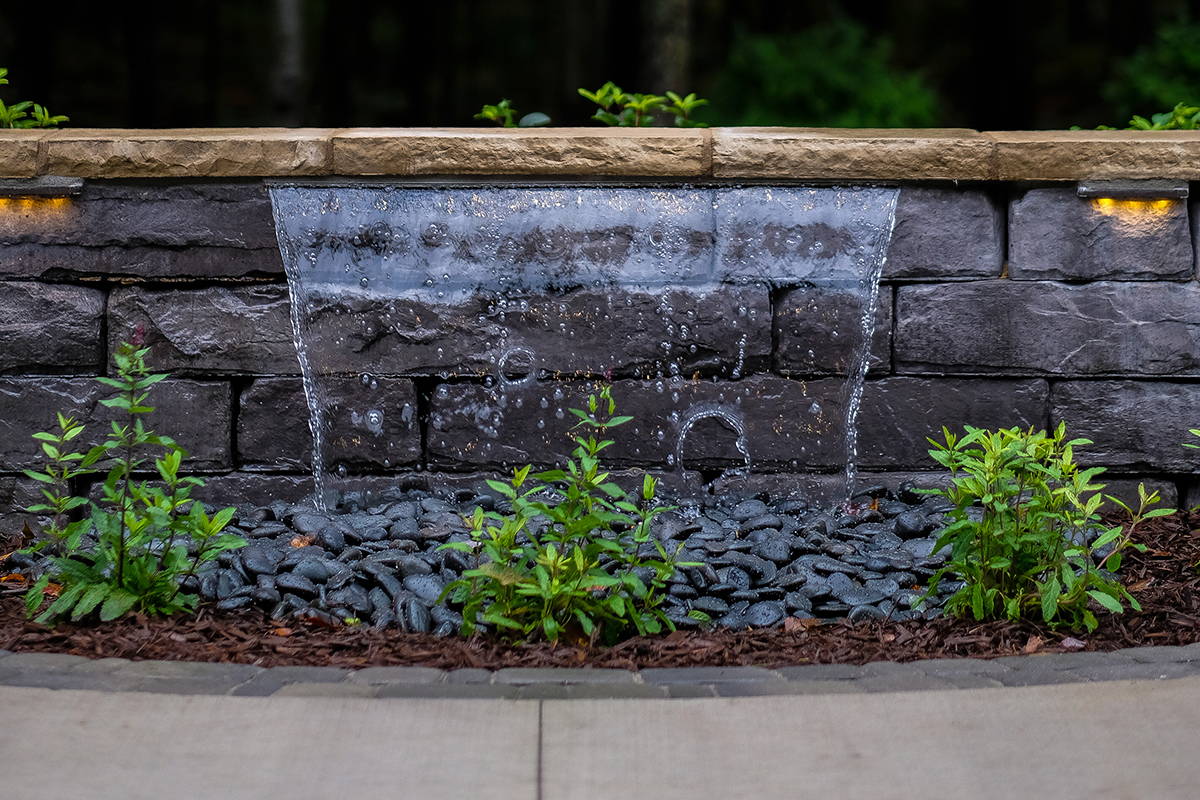 Our beautiful Formal Falls infuses your landscape with the soothing
sounds of rippling water over decorative stones, fostering a serene mood.
The natural beauty and tranquility of cascading water attracts birds and
helpful insects, creating a peaceful oasis.
Made in the USA, Formal Falls® are a beautiful yet simple way to add the aesthetics of water to your surroundings. The water flows out from the retaining wall in a nice, smooth sheet and into the basin below. These waterfall walls can
easily be added to any block wall structure and are a great alternative to ponds or fountains. They can be used to adorn a garden, pool, outdoor living area, or even a
home or business!
• Stainless Steel Construction
• Sealed top supports stacked block
• Self Draining: No need to winterize
• Can be used with mortar
• Manufactured in the USA

Included this Formal Falls® Kit:
Get your Formal Falls™ started today. Includes everything you need to get up and running in no time. Wall block & decorative stone sold separately.
Formal Falls™ Large Basin - 65 Gallon
Pump Discharge Assembly
PVC Primer & Cement
Flex Hose (kit assumes 24" high waterfall)
Basin Dimensions: 56" l x 24" w x 16" h
| | | |
| --- | --- | --- |
| | Medium Formal Falls™ Kit | Large Formal Falls™ Kit |
| | | |
| | | |
| | | |
| | | |
| | | |

The Formal Falls® Basin protects the pump & plumbing assembly. Decorative stones disguise the molded basin and flex hose.
The pump moves water through the flex hose and into a Formal Falls® Stainless Weir. From there, the waterfall cascades into the basin and the cycle begins again.
Beware Cheap Imitations...
• Acrylic will crack in winter if not winterized
• Water flow splits if debris lodges inside
Why is Formal Falls® a superior product?
• Stainless Steel Construction
• Full top to stack block
• No hot spots on light
• Self-draining - won't crack in the winter temps
• Pump is easily accessed inside basin
• Large opening for thick showy water