Posted by Blue Thumb on Apr 7th 2023
Water fountain pumps can be a great addition to any outdoor or indoor space, creating a peaceful and calming atmosphere with the sound of running water. Whether you have a small patio or a large garden, there are many ways to use fountain pumps to create a relaxing ambiance.
In this article, we'll share some tips and tricks for using water fountain pumps to enhance your space.
Choose the Right Water Fountain Pump for Your Space
Before you start creating your water fountain, it's essential to choose the right water fountain pump for your space. There are many types of fountain pumps available, each with their own specifications and features.
If you're not sure which pump will best suit your fountain or pond, here are a couple of choices worth considering:
1. Mag-Drive Pumps
Mag-Drive pumps are high-quality pumps that are ideal for operating fountains, water features, spitting ornaments and indoor or outdoor water fountains.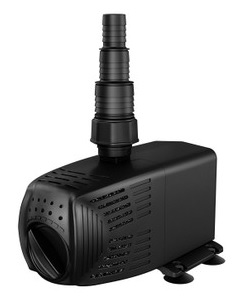 These pumps are perfect for smaller decorative fountains, and are available in a range of sizes to suit your needs. They provide energy-efficient performance and flow, with ease of maintenance. Their adjustable flow and ceramic shaft impellers make them a reliable and effective choice for any fountain.
One of the key advantages of Mag-Drive pumps is that they are easy to maintain. If your pump stops working, try cleaning the inlet strainer and sponge. After that, remove the impeller and clean it with white vinegar and a toothbrush. This will help remove any white scale build up and allow the pump to operate again. Plus, with a 5-year limited warranty, you can enjoy years of uninterrupted use.
2. IllumiFlow Pumps
IllumiFlow Pumps are a hybrid direct drive/magnetic drive pump. This means that they offer the flow rates of direct drive pumps with the low energy costs of magnetic drive pumps.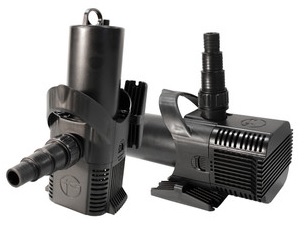 They're designed to aerate and oxygenate water while being water cooled, with no oil. They also feature thermal overload protection and a low-profile design that allows for horizontal or vertical operation.
The IllumiFlow pump's removable fish-guard screened intake ensures that your fish and other aquatic life stay safe. Plus, with a 24-month limited warranty offered here at Blue Thumb, you can have peace of mind that your pump will keep working for years to come.
3. Clear Water Pumps
Clear Water Pumps are a mainstay of the water garden industry. These pumps are some of the most dependable and energy-efficient direct drive pumps available. They are perfect for medium to heavy flows and higher head heights. With their water-cooled, no oil design, you can enjoy years of hassle-free use.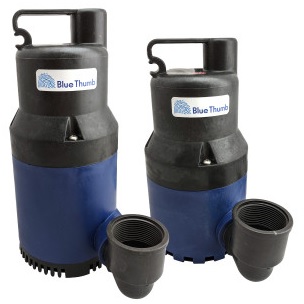 4. Solids Handling Pumps
Solids Handling Pumps are another popular choice for water fountains. These pumps have been designed to handle solids up to 1.25 inches in size. They are perfect for medium to heavy flows and higher head heights. As with the Clear Water Pumps, they are water-cooled and oil-free, which ensures years of uninterrupted use.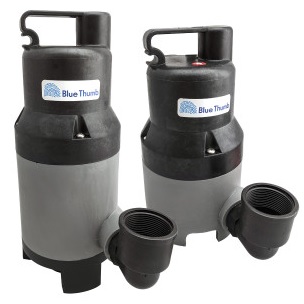 The type of water fountain pump that you choose will depend on the specific needs of your water feature, including the size, flow rate, and intended use. If you have a small space, such as a balcony or a small patio, you can choose a compact water fountain pump that doesn't take up too much space.
If you are looking for a pump to operate a small indoor or outdoor water feature, a Mag-Drive pump would be a great choice due to its energy-efficient performance and easy maintenance. For a more versatile pump that offers both high flow rates and low energy costs, the IllumiFlow Pump is a great option.
Consider the Placement of Your Water Fountain Pump
Moving on to your pump placement, where you decide to set up your water fountain pump is just as important as the type of pump you choose. You'll want to ensure that your pump is placed in a location that is easily accessible for maintenance and cleaning.
Additionally, you'll want to consider the height of your water fountain and the distance from the pump to the top of the fountain to ensure that your pump is powerful enough to handle the flow.
For example, if you have a large garden with multiple water features, such as a pond and a waterfall, you'll want to place your water fountain pump in a central location that can supply water to all of your features. A Clear Water and Solids Handling pump would be excellent choices for this type of space.
Add Lighting to Your Water Fountain
Adding lighting to your water fountain can enhance the ambiance of your space, especially at night. You can use LED lights to highlight the water as it flows or add a spotlight to illuminate the entire fountain. By adding lighting, you can create a beautiful and peaceful atmosphere that is perfect for relaxation.
If you have an indoor water fountain, such as a tabletop fountain, for example, you can add LED lights to the water fountain pump to create a beautiful glow. A Mag Drive Fountain Pump is a great choice for this type of fountain.
Experiment with Different Water Fountain Designs
Finally, you can experiment with different water fountain designs to create a unique and relaxing atmosphere.
You can use a variety of materials, such as stone or ceramic, to create your fountain, or you can add different water features, such as a waterfall or a pond. By experimenting with different designs, you can create a space that is perfect for relaxation and meditation.
If you have a large garden, you can create a natural-looking water fountain using rocks and stones. You can use a Clear Water and Solids Handling pump to power the fountain and create a natural and peaceful atmosphere.
In conclusion, if you want to create a stunning water feature that can relax and calm you after a long day, then you need a high-quality water fountain pump that can deliver consistent and reliable performance.
At Blue Thumb, we offer a wide range of pumps suitable for various water features, ponds, and fountains. Our products are known for their durability, energy efficiency, and innovative design. With different warranties and features available for each pump, you are sure to find the one that best fits your needs.
So, head over to our online store and start designing your perfect water feature with confidence knowing that you are purchasing a high-quality water fountain pump from a reliable and trusted source.